MCAH team member since 2019
Why did you become a veterinarian?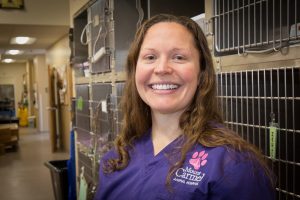 I've wanted to be a veterinarian since before I could even correctly spell the word. I came home from a career day in Elementary school, and knew that being a vet was exactly what I wanted to be, and it hasn't changed since. Being a veterinarian is who I truly am. There are days that can be very challenging, but knowing that I make a difference to my patients and their owners makes me continue to love what I do. I truly enjoy helping pets live a healthy life, which in turn improves the bond with their pet parents.

What is your goal with every patient visit?
With every patient visit, I want to make sure the owner understands that it's a team effort for the care of their pet. It is important to me to make sure that they are part of the decision making process, and are as comfortable as possible no matter the situation.
Advice to pet parents?
Ask your question! I want to help you and your pet with whatever you need – please don't be afraid to ask me anything about your pet.
Who makes up your family?
I am the proud dog mom of two boys: Reed (a pit/corgi mix) who I adopted in Sept 2011, and Diesel (a pointer/lab mix) who I adopted in July 2012. I live with my boyfriend Dan and his daughter.
Fun fact about you? Your pet?
I love to travel! I find great pleasure in spending time outdoors. On the water, I enjoy boating, fishing and crabbing. I just love hearing the sound of the water hitting the shoreline. On land, I like hiking, walking my dogs, or just sitting outside enjoying the sun, sounds, and smells around me. I also enjoy eating international dishes, especially Thai. My boys love their veggies, especially carrots and celery.