MCAH Team member since 2014
Why did you become a veterinarian?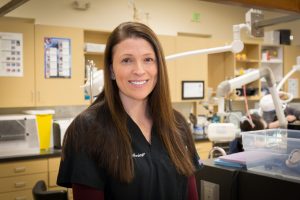 I have been drawn to animals my entire life. I had multiple pets growing up, and had a collection of over 200 stuffed animals in the loft above my room as a child. Animals are such incredible, amazing companions and the relationships we cultivate with them are remarkable. The human-animal bond is something that has always fascinated me and it is something I have an interest in prolonging and protecting. So much so that I decided to become a veterinarian to keep pets as healthy as possible and maintain that bond for people. I also enjoy medicine and the mechanisms of diseases. I like being able to explain how the body works and how conditions are treated. It's such a "win" for me to figure out what is going on with an ill patient and be able to treat it especially since animals can't personally relay their symptoms. After 11 years in practice, I STILL get a high when I can cure an illness and help a pet.
What is your goal with every patient visit?
Honestly it is for clients to trust me to be able to assess their pet and formulate the correct diagnosis/treatment plan. Trust is something I know must be earned. Most people view their animals as family members/children and there is little to no room for error when dealing with such precious patients. I want each client to know that I am doing my best to make the most appropriate recommendations for their pet's health, whether the pet is sick or in for a wellness exam. Building that level of rapport and a relationship with each client and pet is one of my top priorities.
Advice to pet parents?
Every day we get to spend with our pets is a gift. Enjoy them! Trust that your vet has your pet's absolute best interest at heart and don't hesitate to ask us questions or reach out with any concerns.
Who makes up our family?
My husband Scott and I live in Westminster. Scott is Physician Assistant for a cardiology group in Westminster. We have 3 sons: Riley, Wesley and Blake. Luckily, I am not the ONLY girl in our household. My 15 year old cat, Lacey, helps balance things out with some female energy. I adopted her the summer before heading to vet school and she has been a constant in my life ever since.
Fun fact about you?
I enjoy running and traveling. Some say I'm fully crazy as I've completed 4 full marathons! Fun fact – I met my husband while I was working as a vet at a practice in Westminster. He came in with his dog as one of my appointments and there was instant chemistry. A few weeks later he sent a letter thanking me for the care and time I took with his dog, and asking if he could buy or bring me dinner. I still have that letter to this day. I'm glad I took a leap of faith and said yes because the rest is history.