MCAH Practice Owner since 1994
Why did you become a veterinarian?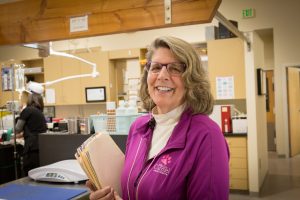 As a young girl I loved puzzles and I loved animals – perfect for a future vet! I grew up in NYC where the SPCA van came to our apartment complex to treat pets. My parents wouldn't allow us to have a dog or a cat. Therefore, I had birds, mice (2 turned into 42!), and turtles (Tom grew to be 12 inches). There was even an alligator for a short time until he bit my mom (it really was a fad in NYC). I always did very well in science and math, and so I decided that I would be a vet. I had plans to get my own van to drive to the city to see my patients!
When I was 11 years old and my uncle told me that I wasn't smart enough to be a vet, that sealed the deal. I WAS going to become a vet! As a college student in the seventies, I endured the obstacles and stereotypes about a woman pursing a scientific and medical career. The more people discouraged me, the more focused I was and the more I wanted it. I am happy to say we now live in a society where the majority of vet students are women who go on to become very successful.
What is your goal with every patient visit?
I always try to treat the client and the patient as I would treat my own family. It is very important to me to build a bond and develop a foundation of trust with the client. Pet owners are the window to what is going on with their pet who cannot speak for him or herself. I strive to present all treatment options to the client, and to understand what THEY feel is best for their pet. Being able to have an open dialog between us is critical to providing quality care. Our mission statement to "treat all patients as if they are family" is integral to my practice philosophy.
Advice to pet parents?
Each pet is an individual. We want to help them become an important part of the family through preventive health care and good life skills.
Who makes up your family?
I have been married to Rance Stoner since 1990, and we have two children. Our daughter, Dani is a mechanical engineer living in Savannah, Georgia. Our son, Ian is a student at CCBC.  We live with Rocco a 2 year old hamster who is adorable, and Mo, a 10 year old Domestic Short-Haired cat, who came into MCAH as a rescue and immediately stole my heart.
Fun fact about you? Your pet?
Mo runs to the garage door every night to greet me when he hears the garage door open!!!
When we retire, Rance and I hope to work as volunteers in the National Park system. Dani and I share a love of biking, and try to do a weeklong bike trip together every couple years – now that she is an adult with a job and responsibilities it is harder!