Make a Payment
To make a payment on your account with VISA, MC, AMEX, or Discover, click HERE
To make a payment with Care Credit, click HERE
Mount Carmel Animal Hospital Financial Policy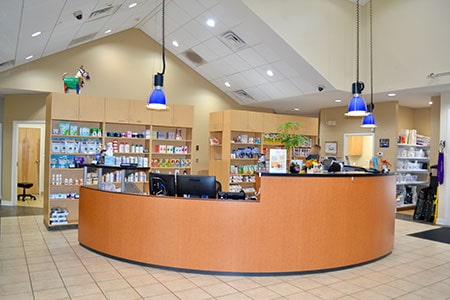 It is our goal to serve you in every way possible, including making your financial experience clear, understandable and easy to navigate. We are committed to excellence in care and service for every patient, every client, every visit. In order to support this high standard of care, we offer a broad spectrum of services, expertise, equipment and procedures to give your pet the best possible care. We want you to understand each step of your pet's care, both the services you receive and the associated costs. We encourage you to discuss fees with our staff before services are rendered.
We always strive to provide you with the recommendations that our professional staff believes best serve your pet's health, your needs, and your comfort level. We do understand that sometimes financial restrictions apply and must be taken into consideration when making treatment decisions. In these cases, we will attempt to provide alternative treatment plans whenever possible. We have no desire to extend a client beyond his/her financial means or comfort level.
We may not be able to provide a treatment plan and estimate for patients with issues diagnosed elsewhere until we examine the patient and any supporting lab work or radiographs ourselves.
Payment in full is due at the time of service. MCAH accepts cash, personal checks, Visa, MasterCard, Discover, and American Express. All personal checks require a valid driver's license. A $30 fee is charged for any returned checks.
Healthcare financing programs allow you to begin treatment immediately and pay over time. Pre-approval for a healthcare financing program enables pet owners to deal with emergency situations should they arise. While emergency situations are not planned, pet owners can plan ahead to be prepared to handle them should they arise.

Care Credit offers No Interest for 6 months. Care Credit is accepted by many veterinary and human healthcare providers. Depending on your pre-approved credit limit, Care Credit can be used repeatedly without reapplying. Click HERE to apply or for more information.
Scratch Pay offers payment plans with easy-to-manage bi-weekly or monthly payments with a simple APR interest rate. A Scratch Plan is not a credit card. Finding & accepting your plan will NOT affect your credit score. Click HERE to apply or for more information.

Mount Carmel Animal Hospital offers a Senior Discount on most services for clients aged 65 and over. Please speak with an MCAH team member for details.
A deposit may be required for some procedures including specialty surgeries.
Defaults on payments due, including checks returned for insufficient funds, are subject to legal action as allowed by law. Finance charges accrue 15% monthly (18% annual rate). Collection fees, bookkeeping fees, and billing charges may also be incurred.
Missed appointments will be subject to a missed appointment fee.  If you are unable to keep your scheduled appointment, we ask that you provide us with a minimum of two hours' notice.