Grooming Services for Dogs & Cats
Here at Mount Carmel Animal Hospital, we want your pet to be healthy from the inside out!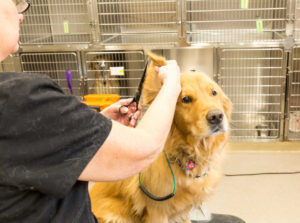 Our professional groomer Leslie is here to provide all the necessary dog and cat spa services your furry companions need. As they are here for the day, we are also able to update vaccines, run blood work and perform exams, making it a one-stop shop! If your pet is a little nervous about the grooming process, our veterinarians are able to provide mild sedation as needed to make it a happier and stress-free event.
Services include:
Bathing (flea, hypoallergenic and other specialized baths available)
Toe nail trims
Anal gland expression
Ear hair plucking
Ear cleaning
Haircuts