Canine Life Skills Training
Mount Carmel Animal Hospital is pleased to offer Canine Life Skills Courses for all ages. With multiple levels, we have a course that is right for you and your canine companion. Whether your furry friend is a new puppy, an adult addition to your family, or an old familiar friend, we can help. You CAN teach old dogs new tricks!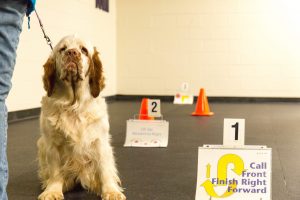 We believe that all dogs deserve training and a responsible owner. Basic training courses are an important component of responsible pet ownership. Training classes for your new puppy or your new adult dog teach you how to communicate with your new addition most effectively. They also provide an opportunity for your dog to socialize with other dogs and learn basic skills. Organized classes also provide an opportunity to learn about housetraining, addressing unwanted behaviors, and learning and executing basic commands in every day situations.
All courses will consist of 6 one-hour sessions. The courses are designed to teach the handler a wide range of skills needed to foster a good relationship with the dog. Our goal is to create a well-behaved canine companion and a well-socialized pet able to engage positively with other dogs. Emphasis is placed on developing trust and communication between handler and dog. We welcome an additional family member to attend training with your pet. The more members of the household who are familiar with handling techniques, the better. We welcome children to participate in training alongside an adult handler.
The goals for each training course are general. The ability for handler and dog to reach these goals can be dependent upon the maturity and distractibility of the dog. Additionally, the owner's ability and willingness to work with their dog at home is a significant factor in skill development. Each dog will be treated as an individual with his or her own unique personality. We will do our best to help each and every dog (and handler) achieve their goals!
Group Classes $150 per 6 week session
Puppy Life Skills: For puppies 4 – 12 months of age
Learn basic commands to help bond your puppy to you and your family. Our training class will provide support and guidance during that impressionable first year. Learning the basic behaviors of sit, down, stay, come, heel and more, will allow you to communicate with your puppy and build a strong foundation for the future.
Puppy Level 1: For puppies 4 – 8 months of age:

Learn basic heeling and control commands such as sit, stay, come. Discuss common puppy behavior, and receive practical advice on raising a well-mannered puppy.
Puppy Level 2: For puppies 8 – 12 months of age: Start, or continue to learn skills introduced in Level 1, introduce new skills and dealing with distractions such as noises, unfamiliar dogs, etc. Dog and handler learn increased focus and control. Older puppies that did not start with Level 1 or welcome to begin with the Level 2 course.
Adult Life Skills: For dogs 1 year and older
This is the ideal class for adult dogs who were recently adopted or who did not receive training as puppies. All handler skill levels welcome – owners who have trained other dogs and owners who have never been pet parents before. For those looking to enhance skills, increase confidence, and develop mastery of control commands.
Individual Classes $50 per one-hour session
Work one-on-one with one of our experienced trainers regarding your dog's specific needs. This is a great option for dogs of all ages and handlers with very specific and unique concerns or goals.
---
Class Schedule Winter – Spring 2020
Pre-registration required – call 410-343-0200 or email FrontDesk@MCAHonline.com
Puppy Level 1: For puppies 4 – 8 months of age
Mondays 3:00 – 4:00 pm with Kathy
March 9 – April 13
April 20 – June 8 (skip 5/4 and 5/25)
Tuesdays 9:00 – 10:00 am with Val
March 24 – April 28
May 5 – June 9
Thursdays 9:00 – 10:00 am with Kathy
March 5 – April 9
April 16 – May 21
Puppy Level 2: For puppies 8 – 12 months of age
Tuesdays 2:00 – 3:00 pm with Kathy
March 17 – April 28 (skip 3/31)
May 12 – June 16
Thursdays 5:30- 6:30 pm with Val
March 5 – April 9
April 16 – May 21
Saturdays 9:00 – 10:00 am with Val
March 7 – April 11
April 25 – June 6 (no class May 23)
Adult Life Skills: For dogs ages 1 year and older
Wednesdays 3:00- 4:00 pm with Kathy
March 4 – April 8
April 15 – May 27 (skip 5/6)
Thursdays 6:45 – 7:45 pm with Val
March 5 – April 9
April 16 – May 21
Saturdays 10:30 – 11:30 am with Val
March 7 – April 11
April 25 – June 6 (no class May 23)
---
Class Policies
All prices per student. Additional handlers are welcome. Children are welcome to participate alongside an adult handler.
No refunds for missed classes due to personal scheduling conflicts. Please discuss any missed classes with your instructor.
Required Health Conditions in order to ensure the health and safety of all participants. Participants in ALL programs must provide proof of the following:

Vaccinations: Rabies (by age 4 months), DHPP or DHLPP (Canine Distemper), Bordetella (Kennel Cough)
Fecal testing with negative results (free of parasites) within last 12 months
---
M

aterials Needed:
Collar – American Choke or Martingale preferred. Buckle collars acceptable. Shock collars not permitted.
Soft lead, 4-6 feet long. Retractable leashes not suitable for class.
For practice at home, a small, non-slip rug or yoga mat and treats easy to break into smaller pieces.
A positive and enthusiastic attitude!