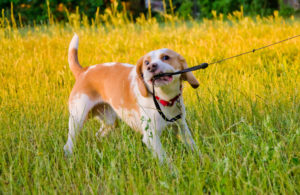 Our obedience classes can help you manage your dog if they're misbehaving. Whether you have a good dog who needs to brush up on some manners or a canine companion that's problematic, we can meet you where you are. There are a plethora of ways dogs can benefit from our obedience classes and canine life skills training courses. Keep reading to learn precisely how. 
Bond Better With Your Dog
Studies have shown that when a pet has good behavior, their owners bond better with them. Owners get a higher level of satisfaction and morale boosts. A happy, well-trained, and obedient dog makes you feel better about being a pet owner and makes managing pet ownership much more comfortable. 
Taking Your Dog Out Will Be More Manageable
Dogs benefit in many ways by getting out of the house. For one, exercising helps with weight management. Two, you'll be able to have more fun with your pet by taking them to events and functions. However, when your canine companion isn't easy to control, trying to take them out becomes more difficult, and in the worst-case scenario, dangerous. We can teach your dog basic commands such as sit, drop, and stay so that you can control your dog in public with ease.
Enhance Your Dog's Socialization Skills
With our obedience classes, your canine companion can learn how to socialize and respond to other dogs. Socialization is essential for any pet. Learning what's okay and not okay is crucial. Even if you don't take your dog out to a lot of events, there are still instances when they encounter other dogs. These instances include going on walks and going to vet appointments. Also, your neighbors may have dogs as well. 
Be a Part of a Community
Coming to our canine life skills training courses allows your dog to connect with other dogs and you to connect with other dog owners. Also, we allow one other person to join you during our canine life skills training courses. Not only will you bond with your canine companion and members of the pet community, but you can bond with a friend or family member as well. 
Here at Mount Carmel Animal Hospital, We'll Treat Your Pets Like Family!
Mount Carmel Animal Hospital has been serving the Northern Baltimore/Southern York community for over 30 years and is proud to be an independently operated, small animal practice committed to excellence in veterinary medicine and client service. From grooming to wellness services, along with Canine Life Skills Training Courses, and surgical procedures, we have the expertise that will best serve the needs of you and your pet. Contact us at 410-343-0200 and follow us on Facebook!